Alive After Five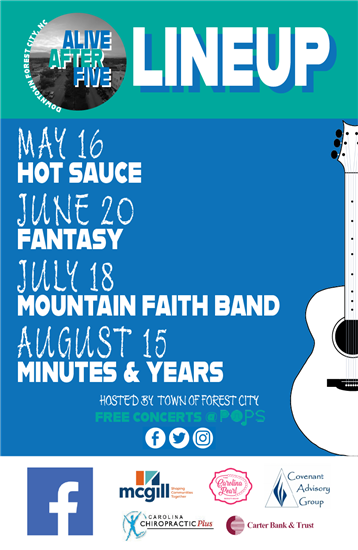 Alive After Five is how Forest City kickstarts the weekend every third Thursday of the summer! As the largest monthly free entertainment celebration, Alive After Five provides a way for friends, co-workers and families to gather, unwind and network while enjoying live music, tasty food and beverages and a fun, casual atmosphere.

Located at the brand-new Pavilion On Park Square (POPS), AA5's central location to historic Main Street allows you to access all of the restaurants, shops, boutiques and more that downtown Forest City has to offer! Come check out the newest entertainment venue in Forest City this summer!


HOT SAUCE - THURSDAY, MAY 16 - 5-9PM
Based out of Charlotte, NC, the five members of Hot Sauce combine seasoned professionalism, first-class talent and the energy of an arena rock band to turn your event from routine to unforgettable. With a song list spanning several decades' worth of hits - from soulful Motown to chic disco, driving rock to today's modern hits - Hot Sauce has something for everyone to get down to.
Everything tastes better with a little Hot Sauce. 🔥 Check out what you'll be hearing at our first Alive After Five on May 16th!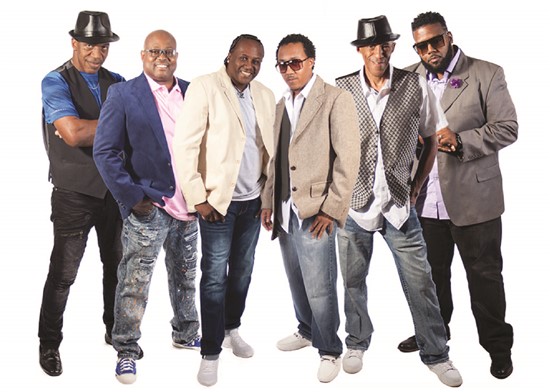 FANTASY - THURSDAY, JUNE 20 - 5-9PM
Take five dedicated musicians, add Beach, the hot sounds of Motown and the smoothed-out R&B, mix it with breathtaking vocals and a groove that's all their own, and you have Fantasy!

Fantasy has performed all over the world for venues such as Japan, Korea, Hawaii, Carnival Cruise Lines, the Venetian Hotel and Casino in Las Vegas, Governor Bev Perdue's Inaugural Ball, Senator John Edwards' Birthday Bash and the Carolina Hurricanes' Stanley Cup Ball... just to name a few.

If you are looking for a high-energy show to keep you on your feet all night, then Fantasy is the one for you!
This band is beyond your wildest Fantasy! ✨ Watch the video to see why they have been voted "The Carolina's Most Entertaining Party Band"! Fantasy Music Video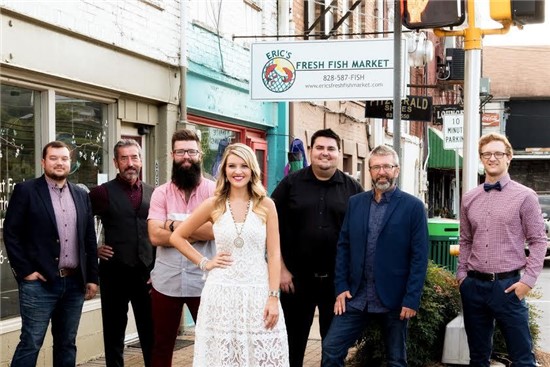 SUMMER BROOKE & THE MOUNTAIN FAITH BAND - THURSDAY, JULY 18 - 5-9PM
Since 2000, Mountain Faith Band has performed their unique brand of Americana/Roots music to audiences from coast to coast at fairs, festivals, colleges, universities, performing arts centers, corporate events and churches. MFB has gained great attention and success since their TV debut on America's Got Talent in 2015 where they advanced all the way to the semifinals.

Averaging 150 concerts per year, MFB has shared the stage with legends Willie Nelson, Charlie Daniels and Loretta Lynn to name a few. MFB has lit up the stage at the Grand Ole Opry and performed the National Anthem for the Carolina Panthers, Atlanta Falcons, San Franciso 49ers and Atlanta Braves as well as performed halftime shows for the Carolina Panthers and Atlanta Falcons. MFB has celebrated multiple #1 songs over their career and has been nominated for multiple awards, like lead singer Summer McMahan's win as the IBMA's 2016 Emerging Artist of the Year.
We have a lot of faith that MFB will rock the stage on July 18th, just like they did during their TV debut on America's Got Talent!
MFB Music Video

MINUTES & YEARS - THURSDAY, AUGUST 15 - 5-9PM
Witnessing a live performance by Minutes & Years can evoke many different feelings: elation, excitement, exhaustion, exhilaration… but never boredom.
The boys from Minutes & Years always put on a fantastic and energetic show which draws the crowd in and creates an interactive and exciting atmosphere. With nearly 1,000 shows worth of collective experience under their belts, Minutes & Years have rocketed to the top of the music scene and are taking their undeniably fun and high-energy show on the road for events across the country.
Minutes & Years consistently brings an eclectic mix of musical styles that range from pop to R&B to rock and spans multiple eras of popular music by bringing classics and fresh contemporary songs together while always keeping a fun and energetic vibe going strong. The band's shows are anything but typical and routine: you could hear tunes by Otis Redding mashed up with a freestyle rap, songs by Kings Of Leon, Lorde or The Police all the way through Motown classics in the same evening.
You only have to wait a few minutes (and no years!) until Minutes and Years takes the stage at our final Alive After Five!
ALIVE AFTER FIVE SPONSORS
We want to thank all of our sponsors for helping make this amazing AA5 season possible! Click on any of the links below to learn more about our sponsors and how you can support them. If you're interested in becoming a sponsor, visit our Sponsorship Opportunities page to learn more about sponsorship levels and to request more information.

Facebook: facebook.com
McGill Associates: mcgillassociates.com
Carolina Pearl Boutique: facebook.com/carolinapearlboutique
Covenant Advisory Group: covenantadvisorygroup.com
Carolina Chiropractic Plus: carolinachiroplus.com
Carter Bank & Trust: carterbankandtrust.com