Drop-In Movies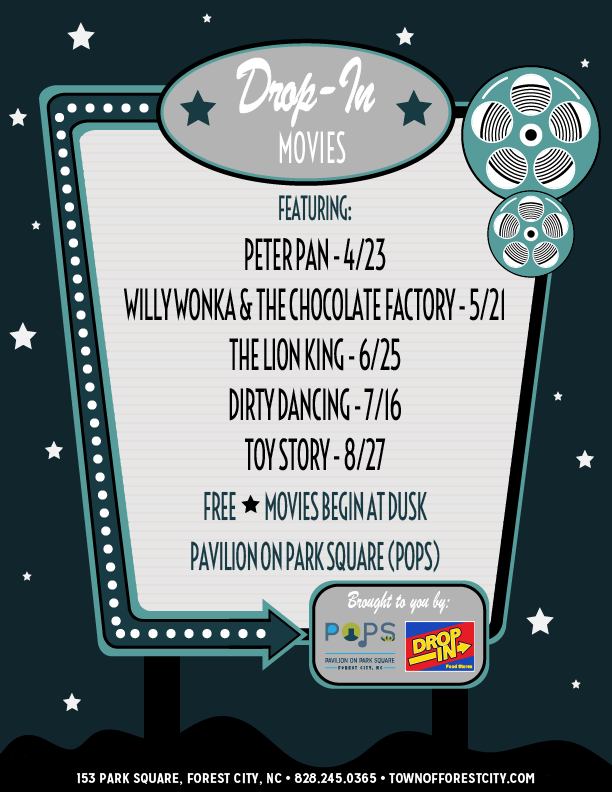 Our summer movie series is back! Sponsored by Drop-In Food Stores, the Town of Forest City hosts these free movie nights throughout the summer. Enjoy a movie on a 25-ft. screen along with popcorn, candy, drinks and other concessions from Explore Forest City available for purchase. All shows begin at dusk. Come and enjoy the movie and concessions in a safe, family-friendly environment!
IMPORTANT INFORMATION
For your safety and the safety of our staff and volunteers, we ask that you follow the NC COVID-19 safety protocols, including wearing a mask, social distancing, using good hand, cough and sneeze hygiene and staying home if you feel unwell.
We look forward to seeing you at POPS!
PETER PAN

• APRIL 23, 2021

•

8

PM
In this Disney animated film, Wendy and her two brothers are amazed when a magical boy named Peter Pan flies into their bedroom, supposedly in pursuit of his rebellious shadow. He and his fairy friend, Tinkerbell, come from a far-off place called Neverland, where children stay perpetually young. Enchanted, the kids follow him back. But when Pan's nemesis, the pirate Captain Hook (Hans Conried), causes trouble, the kids begin to miss their old life.
WILLY WONKA & THE CHOCOLATE FACTORY

• MAY 21, 2021

•

8

PM
A sweet boy from a poor family dreams of finding one of five golden tickets hidden inside chocolate bar wrappers which will admit him to the eccentric and reclusive Willy Wonka's magical factory. One after another, tickets are discovered by ghastly children - but will the lad find the last remaining one and have all his dreams come true?
THE LION KING

• JUNE 25

, 2021

•

8

PM
This Disney animated feature follows the adventures of the young lion Simba, the heir of his father, Mufasa. Simba's wicked uncle, Scar, plots to usurp Mufasa's throne by luring father and son into a stampede of wildebeests. But Simba escapes, and only Mufasa is killed. Simba returns as an adult to take back his homeland from Scar with the help of his friends Timon and Pumbaa.
DIRTY DANCING

• JULY 16, 2021

•

8

PM
Baby is one listless summer away from the Peace Corps. Hoping to enjoy her youth while it lasts, she's disappointed when her summer plans deposit her at a sleepy resort in the Catskills with her parents. Her luck turns around, however, when the resort's dance instructor, Johnny, enlists Baby as his new partner, and the two fall in love. Baby's father forbids her from seeing Johnny, but she's determined to help him perform the last big dance of the summer.
TOY STORY

• AUGUST 27, 2021

•

8

PM
Woody, a traditional pull-string talking cowboy, has long enjoyed a place of honor as the favorite among six-year-old Andy's menagerie of toys. Quick to calm their anxieties about being replaced by newer arrivals, Woody finds his own confidence shaken and his status as top toy in jeopardy upon the arrival of Buzz Lightyear, simply the coolest space action figure ever made. Woody plots to get rid of Buzz, but things backfire and he finds himself lost in the outside world with Buzz as his only companion. Joining forces to find their way home, the two rivals set out on an adventure that lands them in the clutches of Sid, a sadistic neighborhood kid who is notorious for dismembering and reassembling "mutant" toys in his bedroom. As "guests" of Sid and his dog, Scud, the two fugitive toys forge a genuine friendship and learn that only through mutual trust and respect do they have any chance of survival.