Pimento Cheese Jubilee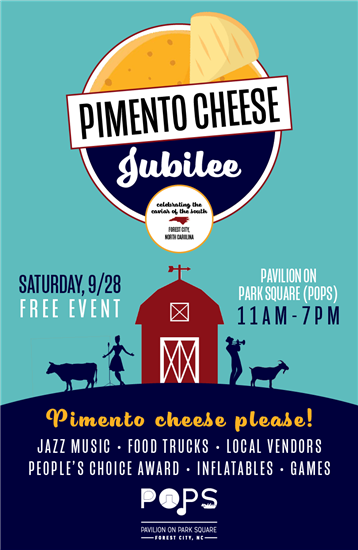 PIMENTO CHEESE JUBILEE - SATURDAY, SEPTEMBER 28 - 11AM-7PM
The Town of Forest City is hosting the first Pimento Cheese Jubilee on Saturday, September 28 from 11AM-7PM at POPS!

The Pimento Cheese Jubilee celebrates "the caviar of the South" and other southern food delicacies. Southern food has seen a huge revival in recent years with staples like chicken and waffles, shrimp and grits and fried green tomatoes making their way onto menus at upscale restaurants. Pimento cheese is no different – you can find it being used to enhance other items like burgers, barbecue and more – and we think it deserves to be celebrated!

Admission is free to the public, and the event is kid-friendly. We will have concessions from Explore Forest City, jazz music, food trucks, local vendors, inflatables, games and more. Check out all of the delicious southern dishes that are available in Rutherford County!
For more information, contact Courtney Ashley at 828.245.0365 or courtneyashley@townofforestcity.com.
VENDOR APPLICATIONS
If you are interested in being a vendor at the Pimento Cheese Jubilee, complete the application and return it to Courtney Ashley at courtneyashley@townofforestcity.com or by mail at:

Town of Forest City c/o Courtney Ashley
PO Box 728
Forest City, NC 28043
Pimento Cheese Jubilee Vendor Packet