Library

LIBRARY CONTACT INFORMATION
240 E. Main Street
Forest City, NC 28043
Phone: 828.248.5224
Fax: 828.248.5214
Email: denisestrickland@townofforestcity.com
LIBRARY DIRECTOR: Denise Strickland
LIBRARY ASSISTANT: Lauren Hou
Email: laurenheavner@townofforestcity.com
LIBRARY HOURS
Monday - Friday: 8AM to 5PM
ABOUT US
Mooneyham Public Library, Forest City's municipal library, began as a small collection housed in an upstairs room in Forest City's Town Hall and moved to its current location in 1964.
Mooneyham Public Library is dedicated to providing free and equal access to chosen resources and reliable information and to fostering lifelong learning and joys of reading. Our services are provided in a welcoming, responsive and professional manner. The library staff welcomes your presence in our library and on our website.
Available Services
Books, audio books, DVDs and magazines are available for checkout

Limited distribution of federal forms January through April

Public access to the Internet and online reference sources

Wireless internet access - FREE

Scanner

Wireless Printer for iPhones.

Accelerated Reader Collections

Fax service available ($1.00 per page to send and receive)

Copies available (black and white copies .25 each, color prints .40 each)

ABC Mouse software available in Children's Room

Charging station

Children's Krayon Kiosk - 4 IPads loaded with learning games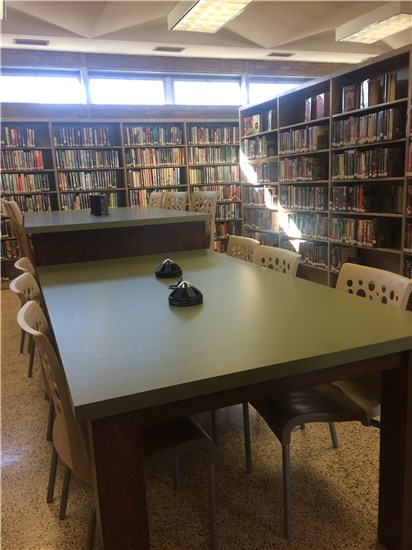 How To Get A Library Card
Mooneyham Public Library is a member of the NC Cardinal library system. NC Cardinal allows members to borrow items from libraries across North Carolina. In order to apply for a library card, you must reside, work, own property, or attend school in Rutherford County. A library card issued from any Foothills Consortium library is valid at all other Foothills Consortium libraries. New patrons must show photo identification (ID) when registering for a library card.
Examples of valid photo identification include:
Driver's License or other state-issued photo identification
Student identification card
Military identification card
Passport
VA Veteran's card
Internet Use
Due to COVID-19, we are not able to offer any computer use at this time.
Mooneyham Library offers six computers for public use. In order to use the computers, patrons must provide a photo ID and sign an internet agreement form. Patrons are given one hour of computer time. Wireless internet access is available for free inside the building. Patrons must provide their own headphones, USB drives and electronic chargers. The computers are shut down daily at 4:45PM.

"Libraries store the energy that fuels the imagination. They open up windows to the world and inspire us to explore and achieve, and contribute to improving our quality of life."
-Sidney Sheldon