Mayor and Board of Commissioners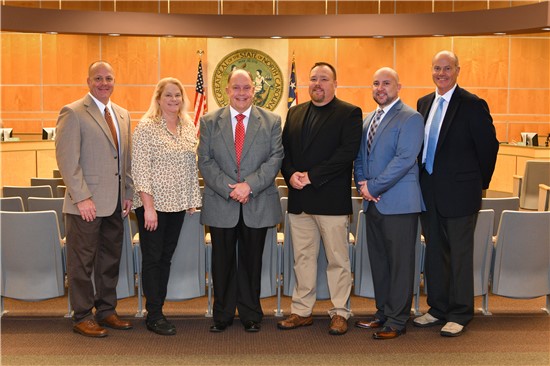 Commissioner Chris Lee, Mayor Pro Tempore Dee Dee Bright, Mayor Steve Holland,
Commissioner Shawn Moore, Commissioner Justin Conner and Commissioner David Eaker
Mayor
The Mayor of Forest City is elected by and from the qualified voters of the Town of Forest City for a term of four years, in the manner provided by Article III of this Charter; provided, the Mayor shall serve until his successor is elected and qualified. The Mayor shall be the official head of the Town government, shall preside at all meetings of the Board of Commissioners, and shall have the powers and duties of Mayor as prescribed by this Charter and the General Statutes. The Mayor shall have the right to vote on matters before the Board only where there are an equal number of votes in the affirmative and in the negative.
Mayor Pro-Tem
In accordance with applicable State laws, the Board of Commissioners shall appoint one of its members to act as Mayor Pro Tempore to perform the duties of the Mayor in the Mayor's absence or disability. The Mayor Pro Tempore as such shall have no fixed term of office, but shall serve in such capacity at the pleasure of the remaining members of the Board.
Ex-Officio Appointments
| | |
| --- | --- |
| ABC Board | David Eaker |
| ADA Board | Justin Conner |
| Beautification Committee | Dee Dee Bright |
| Board of Planning & Adjustment | David Eaker |
| Cemetery Committee | Dee Dee Bright |
| Forest City Owls Liaison | Chris Lee |
| Housing Authority | Shawn Moore |
| Library Board | Shawn Moore |
| Recreation Commission | Chris Lee |
| Youth Council | Justin Conner |