Wastewater Treatment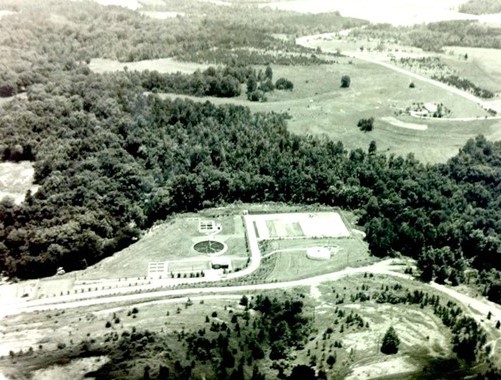 The Town of Forest City, North Carolina began a comprehensive wastewater treatment program with the construction of the Riverside Drive Water Reclamation Facility in 1959. Operations began in 1960 with improvements in 1983, 1988, 1991, 1997 and 2020. Design capacity is 4.95 million gallons per day (MGD), and the current flow is 1.25 MGD.
View the 2022 System Performance Annual Report
US EPA Basic Information About Mercury
Town of Forest City Mercury Minimization Plan
FOREST CITY WASTEWATER TREATMENT
NC0025984 Wastewater Treatment Plant located at 397 Riverside Drive in Forest City is a 4.95 MGD plant consisting of the following units: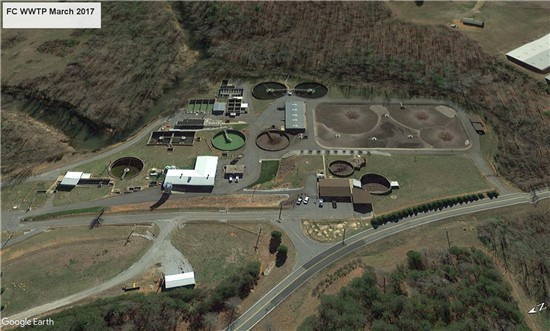 Influent mechanical step/bar screen and manual bypass screen.

Aerated traveling bridge grit chamber and grease removal.

5 smaller first stage aeration tanks with floating aerators (none in service at this time due to flow decrease)

Second stage aeration basin with floating aerators (4.0 MGD Capacity)

Dual secondary clarifiers (75ft diameter)

Chlorine contact chamber and step aeration.

Chlorine gas feed equipment.

Sulfur Dioxide gas feed equipment for dechlorination.

Large Aerobic Digester with Aquatec submersible aerator (approximately 0.450 MG capacity.)

Small Aerobic Digester with 60hp floating aerator (approximately 0.230 MG capacity.

(2) Waste pumps approximately 500 GPM each direct to the digester and 300 GPM to thickener.

JWC Environmental IFT series rotary screen sludge thickener.

Enviroquip 2.0 meter belt filter press (14% - 17% solids.)

Sludge storage building for Class B cake land application.

The average flow is approximately 1.25 MGD.
ENVIRONMENTAL QUALITY
The citizens of Forest City can be proud of the high standards and excellent environmental record of this facility. The Town is committed to protect the environment and provide this essential service in a cost-effective and safe manner.
DESIGN INFORMATION
Design capacity:

4.95 MGD

Current flow (discharge):

1.25 MGD

Effluent BOD:

10 mg/L daily average

Septage receiving station:

10,000 gal. Capacity

Biosolids annual production:

200 dry metric tons

Biosolids building storage capacity:

Approximately 800 cubic yards

Biosolids storage time:

Undetermined

Population served:

8,500 domestic customers and 5 Significant Industrial Users

Class B Biosolids are land applied by U.S. Biosolids, Incorporated operating under permit No. WQ0037135.
RIVERSTONE INDUSTRIAL PARK WWTP
NC0087084 Riverstone WWTP is located at 219 Broad River Blvd. inside the Riverstone Industrial Park. The plant is a 0.05 MGD permitted SBR plant consisting of:
Influent mechanical bar screen and manual bypass screen.

Pre-EQ basin with a maximum capacity of 0.017 MG.

SBR basin with a minimum capacity of 0.043 MG and a maximum capacity of 0.063 MG.

Decant flow rate (average high to low) 313 GPM. Sludge waste rate of 100 GPM.

Post SBR EQ basin maximum volume of 0.0156 MG. The flow control valve feeds the chlorine contact chamber at a rate of 0-0.033 MG.
The SBR has a default program for a permitted flow rate of 5 cycles/24 hour day:
Mixed-Fill 35 minutes (anoxic condition)

React-Fill 109 minutes (bowers running with floating mixer)

React Phase 35 minutes (influent pumps are locked out)

Settle 45 minutes

Decant 64 minutes

Idle 0-64 minutes (integral with decant)

Sludge Waste 2.26 minutes (integral with decant)
The cycles have programmability built in by PLC. These have been adjusted to accommodate the small flow rate currently received by the plant. Sludge waste is conducted manually as needed and is hauled to the plant headworks of the Forest City WWTP. The Riverstone WWTP was built in 2003 and began operation in November 2013. Influent flow ranges from 0.003 MGD to 0.0055 MGD of domestic and permitted industrial wastewater from industries within the industrial park and adjacent American Zinc Products facility.
Superintendent/Laboratory Supervisor
Tommy Wilson is the Plant Superintendent and Laboratory Supervisor. Tommy holds a Grade 4 North Carolina Biological Wastewater Certification and has over 15 years of wastewater experience.
email: tommywilson@townofforestcity.com
Chief Wastewater Operator
Jacob Hodge serves as Chief Wastewater Operator and ORC. Jacob holds a Grade 4 North Carolina Biological Wastewater Certification and has over 12 years of wastewater experience.
email: jacobhodge@townofforestcity.com
Pretreatment Coordinator/Fats, Oils, and Grease Coordinator
Tim Atkins serves as Industrial Pretreatment Coordinator and FOG Coordinator. Tim holds a Grade 4 North Carolina Biological Wastewater Certification and has over 11 years of wastewater experience.
email: timatkins@townofforestcity.com
Laboratory Analyst
Caleb King holds a Grade 4 North Carolina Wastewater Certification and serves as the Laboratory Analyst. Caleb has over 10 years of wastewater experience.
email: calebking@townofforestcity.com
Treatment Plant Operators
BJ Hamilton is a Grade 1 operator. BJ has 15 years of active service with the town in water distribution and parks and recreation departments.
Seth Hollars is an Operator in Training. Seth has been employed with the town for 2 years in Meter services and wastewater departments.
For more information or to schedule a tour, please contact:
Tommy Wilson, Superintendent
P.O. Box 728
Forest City, NC 28043
Phone: 828.248.5217
email: tommywilson@townofforestcity.com
Jacob Hodge, Chief Wastewater Operator
P.O. Box 728
Forest City, NC 28043
Phone: 828.248.5217