Finally Fridays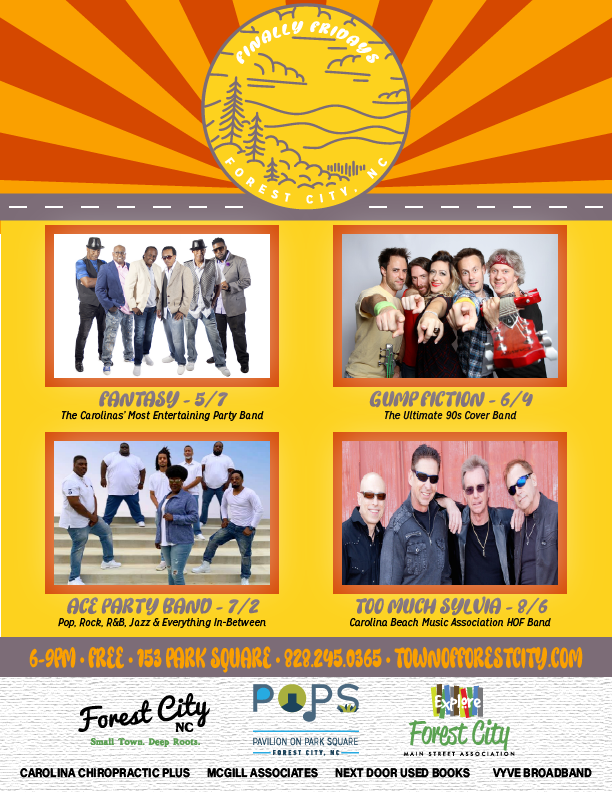 Finally Fridays are how Forest City kickstarts the weekend every first Friday of the summer! Finally Fridays provide a way for friends, co-workers and families to gather, unwind and network while enjoying live music, tasty food and beverages and a fun, casual atmosphere. Finally Fridays' central location to historic Main Street allows you to access all of the restaurants, shops, boutiques and more that downtown Forest City has to offer. We encourage you to support local during this event!
We look forward to seeing you at POPS!
FANTASY

• FRIDAY, MAY 7, 2021

•

6

-9PM
Take dedicated musicians, add Beach, the hot sounds of Motown and smoothed-out R&B, mix it with breathtaking vocals and a groove that's all their own, and you have Fantasy!
Fantasy has performed all over the world: Japan, Korea, Hawaii, Carnival Cruise Lines, the Venetian Hotel and Casino in Las Vegas, Governor Bev Perdue's Inaugural Ball, Senator John Edwards' Birthday Bash and the Carolina Hurricanes' Stanley Cup Ball... just to name a few. If you are looking for a high-energy show to keep you on your feet all night, then Fantasy is the one for you!
Watch to see why they have been voted "The Carolinas' Most Entertaining Party Band": Fantasy Mash-Up.
GUMP FICTION

• FRIDAY, JUNE 4, 2021

•

6

-9PM
Gump Fiction is a high-octane, nostalgia-fueled time machine with one totally radical destination: the 1990s. Known as the Ultimate 90s Experience, they will take you back to the days of dial-up internet, slap bracelets, Tamagotchi pets and the music you forgot you loved. Gump Fiction is your chance to go back in time and rock out to your favorite A-side tracks, from Nirvana to Britney Spears and everywhere in between.

You think Gump Fiction is just your everyday cover band? As if! These four guys and one girl bring a premium, customizable entertainment package that can include extra options, such as 90s dance music between sets, 90s trivia and an authentic, old-school 90s arcade with all of the classic games to really bring the decade alive.
Since 2012, the band has performed hundreds of shows across the world, including small, corporate events and high-profile, city-wide festivals for crowds of over 25,000. No matter the size of the show, the members of Gump Fiction pride themselves in tailoring each performance to the unique requirements of the event. Aside from being obsessed with all things 1990s, these five individuals have a passion for developing each show specifically to the needs of the client and the desires of the audience. Gump Fiction is professional, experienced and committed to take an event to the next level through quality music, entertaining showmanship and of course, your favorite hits of the 90s!
Go back in time with Gump Fiction: Gump Fiction Mash-Up.
ACE PARTY BAND

• FRIDAY, JULY 2, 2021

•

6

-9PM
The Southeast's Premier Party Band! Based out of Shelby, NC, ACE encompasses a diverse group of seasoned, vibrant and talented entertainers. ACE is a 7-piece musical powerhouse that takes you on a musical ride from yesterday's favorites to today's biggest hits. There's no sitting at an ACE Party! ACE's versatile style is guaranteed to keep everyone entertained. Playing all of your favorites, they promise to rock the stage all night long!
ACE Party Band is a diverse group of talented musicians whose versatile style is guaranteed to keep you entertained all night long. ACE Party Band performs for all generations and includes music from all genres spanning over the past 50 years, including Beach and Motown, Top 40s, Pop, Rock, Hip Hop, R&B, Country and Jazz Standards.
Party with ACE: ACE Party Band Mash-Up.
TOO MUCH SYLVIA

• FRIDAY, AUGUST 6, 2021

•

6

-9PM
Too Much Sylvia has the ability and desire to please and play something that everyone will enjoy. Their onstage antics and personalities will touch all. Whether it's a low-key dinner setting, an energetic party or a festival with all ages attending, the band easily adapts. By not working from a "setlist", 2MS has the ability to pace the song selection and provoke audience interaction to reach a peak at the right moment. The experience and professionalism only add to the ease of working with Too Much Sylvia.
Their vocal blend and harmonies are a major part of the 2MS sound. Combine all the above with their tight, tasteful musical arrangements and it's a presentation that is appealing to dancers and listeners at a comfortable sound level for everyone. 2021 is a landmark year as we celebrate the 30th Anniversary of TOO MUCH SYLVIA! 2MS has played over 3,200 shows from DC to the Caribbean. 2MS was inducted into The Carolina Beach Music Hall (CBMA) of Fame in 2019. Since 2014, 2MS has received 17 Cammy Awards from the CBMA and produced eight produced 2MS song videos (available on YouTube and Facebook). And one last fact that stands out - it's been the same 4 guys since 2001 . . . 21 years!
Get ready to dance with Too Much Sylvia: Too Much Sylvia Mash-Up.