Trails To Tails Dog Park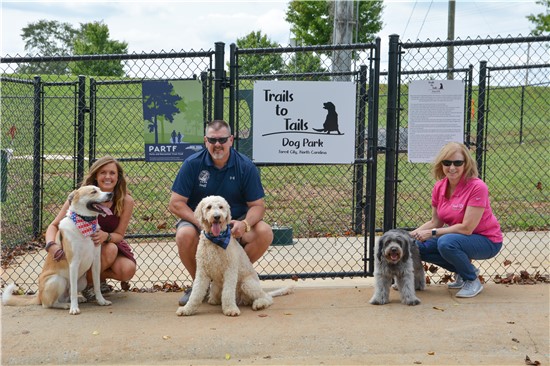 PARK INFORMATION
Address: 122 Park Street, Forest City, NC 28043
Telephone: 828.248.5220
Operating Hours: Sunrise - Sunset
Trails To Tails Dog Park is home to a wide open area for your dogs to play together (separated into two sections for large dogs and small dogs), water fountains, waste stations and shaded seating areas. Right off of the Thermal Belt Rail Trail, Trails To Tails is the perfect place for your dogs to run off-leash with their puppy pals.
PARK RULES
Dogs must meet all guidelines below and maintain current vaccinations (Rabies, DHLPP & Bordetella) to utilize the off-leash areas. Violators will be subject to removal from the park and suspension of privileges. The Town of Forest City reserves the right to ban any dog/owner for failure to comply with park rules.
The dog park opens at sunrise and closes at sunset daily.
No animals except dogs may be brought into the fenced area.
All dogs must be leashed until safely inside the dog park and returned to a leash prior to exiting. Gates must remain closed at all times after entry and exit.
Choke, spike, chain or pinch collars are not allowed in the dog park.
Dog owners must remain in the fenced area while their dogs are using the dog park. Owners must be in view of their dogs with voice control at all times.
Children under the age of 13 must be accompanied by an adult. Spectators should remain outside the fenced area.
Aggressive dogs, female dogs in heat and sick dogs are not allowed. Owners must immediately leash and remove dogs from the dog park at the first sign of aggressive behavior.
Owners must properly dispose of waste in the designated on-site containers.
While small bite-sized training treats are permitted, food in bowls and long-lasting chews are not allowed.
Owners must prevent dogs from digging holes and are responsible for filling them.
No smoking, vaping, alcohol and tobacco use of any kind, glass, firearms, knives or weapons of any kind are allowed inside the dog park.
Strollers, carriages, bicycles, motorized vehicles and children's toys are not allowed in the dog park.
No more than two (2) dogs per person are allowed on any single visit.
Puppies less than four (4) months old are not permitted.
Dogs must be vaccinated for Rabies, DHLPP & Bordetella. Current license and rabies tags must be worn on the dogs collar at all times.
No person shall lie or sleep in a prone position on seats, tables, or benches in city parks. (Town of Forest City, NC Code of Ordinances Sec. 15-7)
NC State Law requires all dog bites to be reported to FCPD Animal Control. In addition, owners are required to assist in the investigation of incidents of aggression or biting by providing appropriate identification and information to FCPD and to other dog owners who are involved with the incident under investigation.