Award-Winning Country Music Star Jimmie Allen to Perform at POPS with Neon Union and Rutherford County Line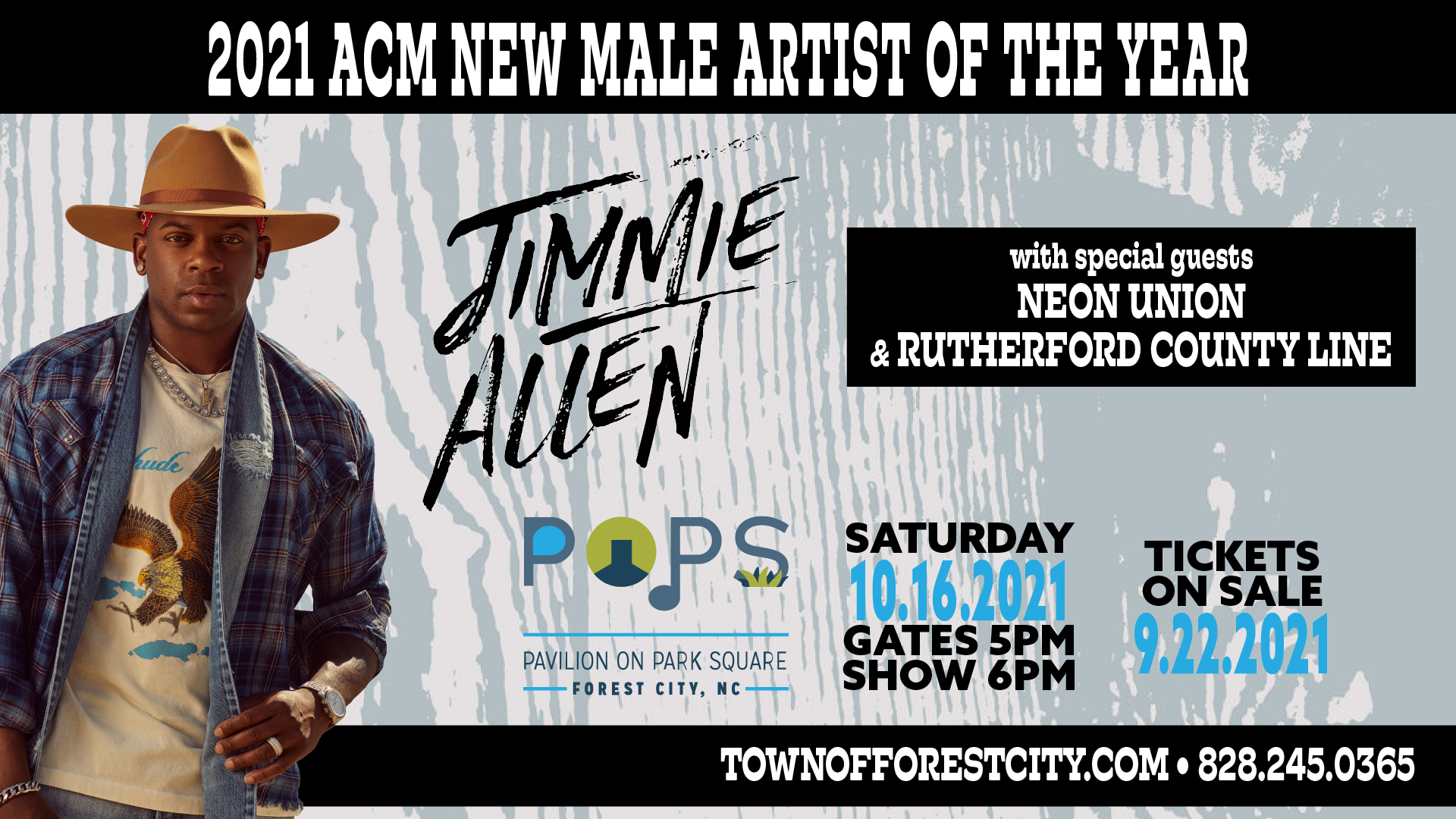 PRESS RELEASE: Award-Winning Country Music Star Jimmie Allen to Perform at POPS with Neon Union and Rutherford County Line
CONTACT: Courtney Ashley, Town of Forest City, 828.245.0365, courtneyashley@townofforestcity.com
FOREST CITY, NC — The Town of Forest City proudly presents ACM New Male Artist of the Year Jimmie Allen, up-and-coming country band Neon Union & local favorite Rutherford County Line at the Pavilion On Park Square (POPS) on Saturday, October 16!
"This concert is huge for Forest City and Rutherford County," said Courtney Ashley, Marketing and Events Coordinator for the Town of Forest City. "Jimmie Allen has been climbing the charts, putting out hit after hit, selling out arenas and winning just about every award you can think of. You can't turn on country radio without hearing one of his songs. His popularity will continue to quickly rise, and we are really lucky that we were able to get him now."
For rising, multi-platinum selling, trailblazing country star Jimmie Allen, a simple phrase sums up his view on life and music: Never give up. Allen has carried that mantra with him through good times and bad, whether that meant living in his car or receiving his first ACM nomination for New Male Artist of the Year in 2019, a CMA Awards nomination for New Artist of the Year in 2020 and winning the ACM Award for New Male Artist of the Year in 2021. Allen is currently nominated for the CMA New Artist of the Year for the second consecutive year and is a contestant on Dancing With The Stars' landmark 30th season on ABC. GRAMMY.com has hailed Allen as one of "5 Black Artists Rewriting Country Music". As Allen's rising star power shows no signs of slowing down, he remains unapologetically himself and proof of what can happen when you never give up.
With his first album Mercury Lane, Allen made history as the first Black artist to launch a career with two consecutive No. 1 hits on country radio, with "Best Shot" claiming the No. 1 spot for three weeks and his second single "Make Me Want To" hitting the top spot in March 2020. He followed up the success of Mercury Lane with his July 2020 collaboration project, Bettie James, which has amassed 171+ million streams and has further established Allen as Country's next superstar. The star-studded seven-track project combined his deep love of family and genre-spanning taste in music. The wide array of hitmakers include Brad Paisley, Charley Pride, Darius Rucker, Mickey Guyton, Nelly, Noah Cyrus, The Oak Ridge Boys, Rita Wilson, Tauren Wells and Tim McGraw.
Allen, who has an incredible knack for connecting with people of all backgrounds and interests, enjoyed collaborating with other artists so much while making his monumentally successful album Bettie James that he didn't want to stop – so instead, in trademark Allen fashion, he kept going. The result: Bettie James Gold Edition. Released in June 2021, the 16-track album doubles down on Allen's expansive love for music across genres, with nine brand-new collaborations with Babyface, Breland, Keith Urban, LANCO, Lathan Warlick, Lindsay Ell, Little Big Town, LOCASH, Monica, Neon Union, Pitbull, teamwork. and Vikina.
The concert also features Neon Union, an up-and-coming country band that Allen recorded a duet with on his last album, and local favorite Rutherford County Line. Tickets start at $35 and go on sale on Wednesday, September 22 at 12PM. Please visit eventbrite.com for ticket information.
POPS is located at 153 Park Square in downtown Forest City. Doors will open at 5PM and the concert will start at 6PM. There are several parking lots located beside POPS and off of Main Street, and you can find the parking diagram on the Events page at townofforestcity.com. Low chairs and blankets are allowed in the grassy seating area. Tobacco, smoking, vaping, pets, umbrellas, professional cameras, flash photography, recording equipment, laser pointers and weapons of any kind are prohibited. All bags and outside materials are subject to search. No outside food and beverages are allowed, but there will be food trucks from local vendors and a concession stand featuring pizza, nachos, popcorn, candy, soda, beer and wine.
As the Town prepares to host this concert, they are asking all attendees to follow the NC COVID-19 safety protocols for the safety of all visitors and staff. These protocols include being considerate of others and providing ample amounts of space, practicing good hand, cough and sneeze hygiene, using the sanitizing and handwashing stations that are located throughout the park and staying home if you feel unwell. Wearing a mask in areas that may have a high concentration of people is also strongly encouraged, regardless of your vaccination status. Please join them in committing to follow their guidelines to help them accomplish their goal of hosting a safe and successful event for everyone involved.
For more information, call 828.245.0365, visit townofforestcity.com and follow the Town of Forest City and POPS on Facebook, Twitter and Instagram.